Welcome to another amazing week of This Momma's Meandering Mondays! We had some amazing link ups and we broke all previous link up records for This Momma's Meandering Mondays! We feel so totally honored to have had you all join us!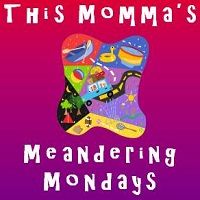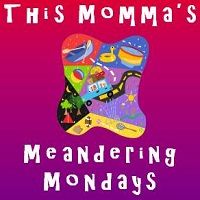 Please help me welcome back Jessica from The Wondering Brain, Natasha from Epic Mommy Adventures my two amazing cohorts in fun, who are joining me on a permanent basis for This Momma's Meandering Mondays and the fabulous Ophelia from Latina Mama Rama our lovely September co-host!
"I'm a Gen Xer and work full time as a Special Projects Person for a university. I am also a full time mommy to 2 boys, ages 19 and 2. To top it off, I am also a full time Doctoral Learner for the University of Phoenix. I started writing this blog in January 2013 because I was suffering from writer's block in school. I like challenging myself in whatever I do. I figured if I held myself accountable for writing, why not display all my crazy thoughts out to the public? Thus, The Wondering Brain was born!"
"I am the author and editor of Epic Mommy Adventures, Natasha is a 30-year old single, working mommy and graduate student. She enjoys blogging about her entertaining adventures with her 2-year old son and all of the things that motherhood brings. She has an ongoing series on her blog, What's For Lunch Mommy, focused on simple and healthy meal choices for toddlers. Visit Epic Mommy Adventures for good laughs, giveaways, recipes, and so much more!"
"Latina, wife, mama of 2 boys. Love food & coffee, clean freak. Always on the go jumping from one thing to another. LatinaMamaRama is a lifestyle blog where family, food and culture is discussed."
Now it is time to introduce our favorite This Momma's Meanderer's from last week, and boy oh boy it was a difficult choice! Don't forget to grab your "I Was Featured" badge of honor!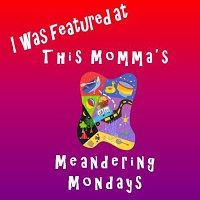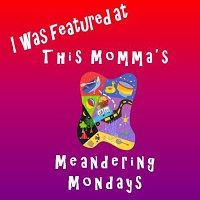 Natasha's favorite came from Kimberly at Being a Wordsmith with her post "5 CD's That Make Me Happier, Healthier, and Wiser"
Saying, "Kimberly always has a way of drawing me in to her writing, with even the simplest of concepts. In this post, she shares her 5 all-time favorite CDs. And now I'm thinking of what those are for me and reminiscing."
Ophelia's favorite came from Lisa at Spoonful of Crafts with her post "Outdoor Autumn Frame for Messages".
Saying, " I love the vintage rustic look of that frame and it could be used so many different ways. So creative! LOVE!"
My favorite came from Marty at Marty's Thoughts On Live and Things with her post "
Fighting for the Right to Love
"
"This post really touched my heart, because as some of you may have read in previous posts, I am the proud mother of an openly gay son. I want nothing more than for him to be able to find happiness with a spouse and be able to share all of the important things that straight couples are entitled to, like the right to be parents, support each other during sickness and in health, and even the benefits."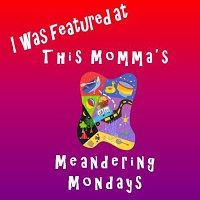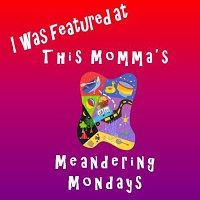 Thank you to all of you wonderful ladies! And thank you to all of you who joined us last week!
a Rafflecopter giveaway

Remember everyone enjoys a little comment love! Feel free to "meander" by some fellow bloggers and find a new recipe to make for the family, a helpful blogging tip, a funny story to read, and best of all a new friend to make! There are really only a few rules that I would ask you to follow, pretty simple ones really… 1. Link up your favorite story, recipe, photo, or helpful tip. 2. Please follow our Host's and Co-host's 3. Please find some new friends to follow, remember the more you follow the more followers you will have. 4. Be sure to leave some comment love, to get it in return. 5. Grab our badge and display on your blog, sharing the love is what it's all about. Then meander through the links and make some new friends, find some amazing and useful tips, and maybe even a new treat to try!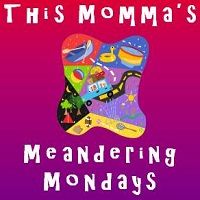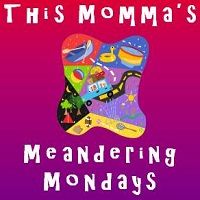 Are you interested in co-hosting This Momma's Meandering Mondays? If so, please drop me a line at ssgannett@gmail.com. I would love to have you along for the ride! You can also check out my sponsor page for more info. This Momma's Meandering Mondays, now offers more ways to link up all of your favorite sites, so that we have more opportunity to Meander around and share the love! So happy Linking everyone! Blog Link Up:

Facebook Link Up:

Twitter Link Up: